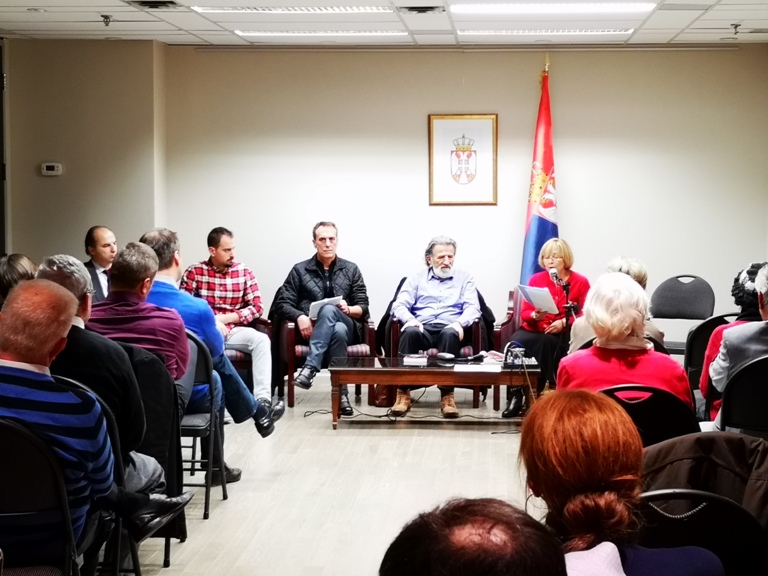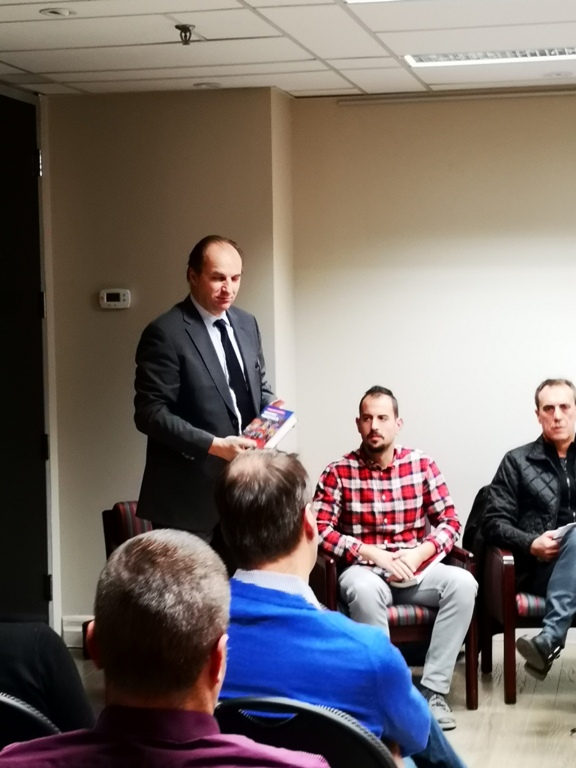 On December 6th, 2018, in the premises of the Consulate General, was held a literary evening about the novel by Dr. Radomir Baturan, "Kukasti nad Srbijom", organized by Serbian OCnsulate General in Toronto and the club of the Serbian intellectuals magazine "People Talk"from Canada.
The plot of the book is dedicated to historical personality, the pilot of the Yugoslav Royal Army, Djordje Stojanovic, who shot down three enemy aircraft, during the twelve days war between the Kingdom of Yugoslavia and Nazi Germany. The further course of events, the betrayal of Nedić's government and the capitulation of the Royal Army, lead to serious, moral and personal tragedies of the protagonist who was a patriot and a soldier as a whole. After exile and living in a foreign country, rehabilitated in the 1980s, the main hero returns to his homeland when he thought it needed him again in 1999 - when NATO alliance bombed Serbia where he was killed in one of the attacks of NATO aviation on a train with Serbian civilians in Grdelica Canyon

Writer and lector Dušica Ivanović, as well as moderator of the literary evening; professor of world literature Đorđije Mučibabić; BA of Russian Literature Nikola Gligorević and author of the novel PhD Baturan were participating in the debate on the book. MA Aleksandar Bojičić performed several compositions by domestic authors on the acoustic guitar.
In his introductory speech, Consul General Vasilije Petković, pointed out that the contribution of the territorially small but courageous, hearty and proud Serbia in both world wars was remarkably great and that we should keep our memories of contributing individuals to the Serbian history and society for the future generations.
The book "Kukasti nad Srbijom" depicts the life of an ordinary Serbian soldier-pilot, his moral and life deterioration due to difficult historical circumstances, as well as the rise as he realizes that he may once again, at the end of his life, return to his father's bumper again.
Participants of the debate, as well as guests of a literary evening, concluded that a man can have only one country wherever he is - and that is the one in his heart.
At the end of the literary evening, PhD R. Baturan presented a book "Curator of the Mesesia" to Consul General V. Petkovic, as a gift with personal inscription: "To Mr. Vasilije Petkovic, Consul General of Serbia in Toronto, for his personality, gratefulness and help in organizing all the literary evenings of the magazine "People Speak" in Consulate General, I give this to the author, his favorite novel. For the life and soul of the Serbian people and Serbia, Radomir Baturan ".