UNESCO's role extremely important for preservation of Serbian heritage in Kosovo and Metohija
November 12th, 2021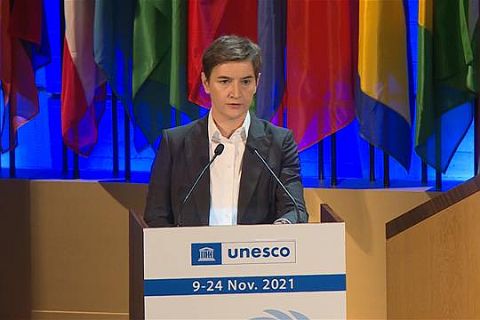 Prime Minister Ana Brnabic stated today that severe examples of endangering the Serbian cultural, historical and spiritual heritage in Kosovo and Metohija are proof of the important role of UNESCO in protecting and preserving heritage.
At the 41st session of the General Conference of UNESCO in Paris, Brnabic emphasized that four jewels of the Serbian medieval cultural heritage in Kosovo – Visoki Decani, Pec Patriarchate, Gracanica and Bogorodica Ljeviska, have been preserved thanks to the fact that they are inscribed on the endangered world heritage list. Hundreds of other sites and monuments are endangered.
The Serbian heritage in Kosovo and Metohija is of immeasurable importance, not only for the national identity of Serbia, but also as a part of the esteemed European and world heritage, she underlined.
Source/Photo: www.srbija.gov.rs
---
Address of the President of the Republic of Serbia at the United Nations climate change conference COP26 held in Glasgow
November 2nd, 2021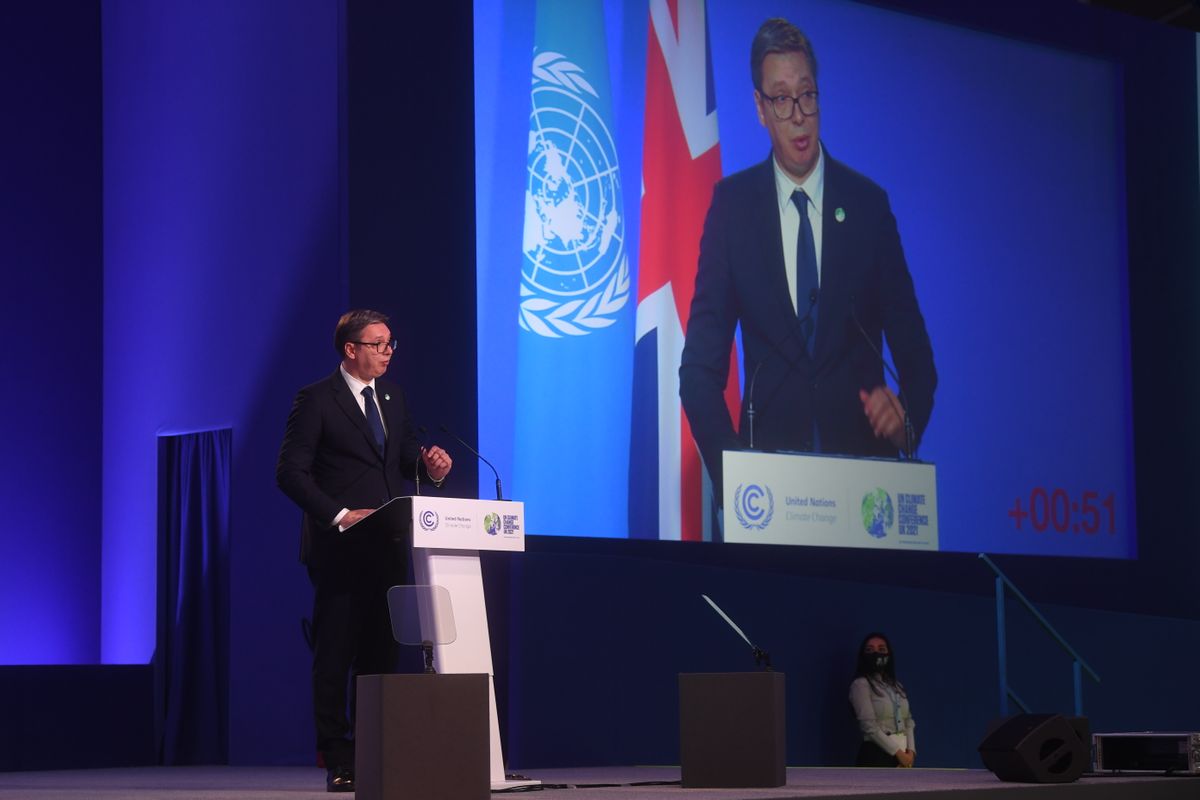 "Your Excellences,
distinguished delegates,
dear Sarah,

At the very beginning, I feel obliged to thank Prime Minister Boris Johnson and Her Majesty's Government for exceptional hospitality.

I feel privileged to represent the Republic of Serbia at this important place and at the highest-level world forum, in working on the most important topic of today – promoting climate awareness.

We all agree that we must make investment into climate and environment.

We all, likewise agree, that future generations must be educated in order not to repeat the mistakes we made, by hurting the only Planet that makes life possible.

I am very honoured that the Republic of Serbia is co-chairing this year's Conference as a Non-EU representative of the Eastern Europe Group.

In concrete terms, we see the special contribution of our expert team in finalising negotiations on the implementation of Article 6 of the Paris Agreement, which refers to the establishment of the global market and non-market mechanisms for reducing greenhouse gas emissions, as well as to remaining provisions referring to advanced transparency framework and common timeframes for Nationally Determined Contributions, which are the key provisions of the Agreement that have not yet been covered by the decision that is to be adopted by the Conference, i.e. all member states.
We, therefore, believe that this is an exceptional opportunity for Serbia to give its full contribution to the finalization of negotiations, which, we hope, will secure full implementation of the Paris Agreement.

As a result of strong economic development, modelled for Serbia by 2050, the impact of the implementation of climate measures to employment will be optimal, through new jobs creation and creation of new industries which have not existed so far.


One billion euros was raised at the first green bonds auction in Serbia, which clearly confirms the trust of international investors in our green agenda, but also to the economic and political stability of our country.

Incomes from green bonds issuance will be used for financing renewables, energy efficiency, sustainable water management, prevention of pollution and circular economy development and biodiversity preservation.

And as you can see, dear friends, my people made a terrific speech for me, but I am going to add a few more words and a few more questions for those that are coming from big powers and that haven't answered yet several questions:

Number one is: how are we going to finance all these activities?

We've heard the story of trillions of dollars that are at our disposal. My question would be: what would be the interest rate, what would be the terms for taking these amounts of money, and actually how are we going to tackle that issue?

Number two: how are we going to treat the nuclear power plants? Are we going to shut them all or are we going to build them more?

Then, how are we going to build more renewables if we already started endorsing populist movements against wind parks, new hydropower plants, and are we going to put in jeopardy the level of our public debt to GDP ratio if we raise huge amounts of money?

How are we going to treat natural gas, and how are we going to secure decent prices of natural gas and electricity power as well?

And, I came here using an electric car from Edinburgh to Glasgow. But, how are we going to do mining and refining of lithium, nickel, cobalt and many other very important minerals?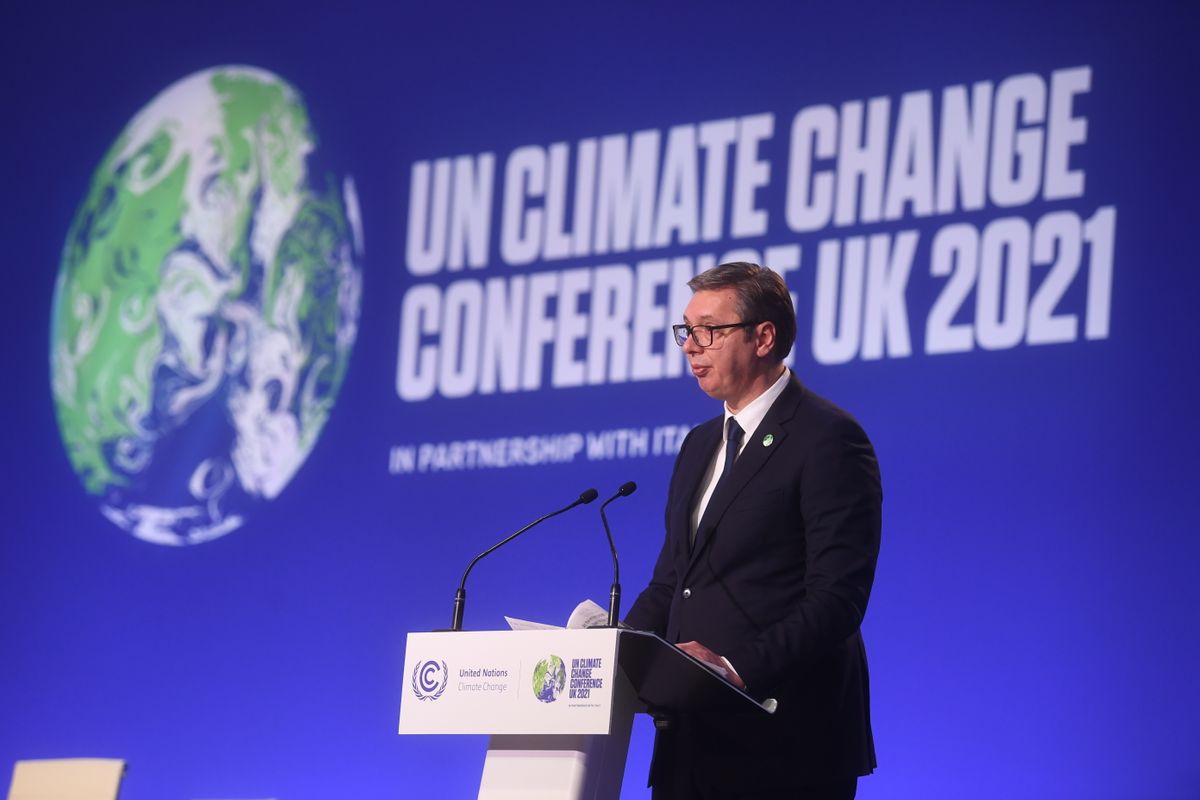 In the end, we all know what is our final aim, what is our final target. But, it's not a fairytale – we'll have to work a lot, we'll have to be 100 per cent dedicated, and we'll have to be more honest with each other.

The health of people living in Serbia depends directly on the implementation of this Agenda, just like the health and life of each living being on Earth depends on arrangements that will be reached here and on national implementation of the respective arrangements.

Perhaps it is the right time to listen and hear the cry of Mother Earth because if we lose this race against time, our children will inherit an irreparably polluted Planet.

Thank you very much for listening to me."
---
Selaković in UNSC: Dialogue and the implementation of the agreements reached are the only right way to resolve all open issues
October 15th, 2021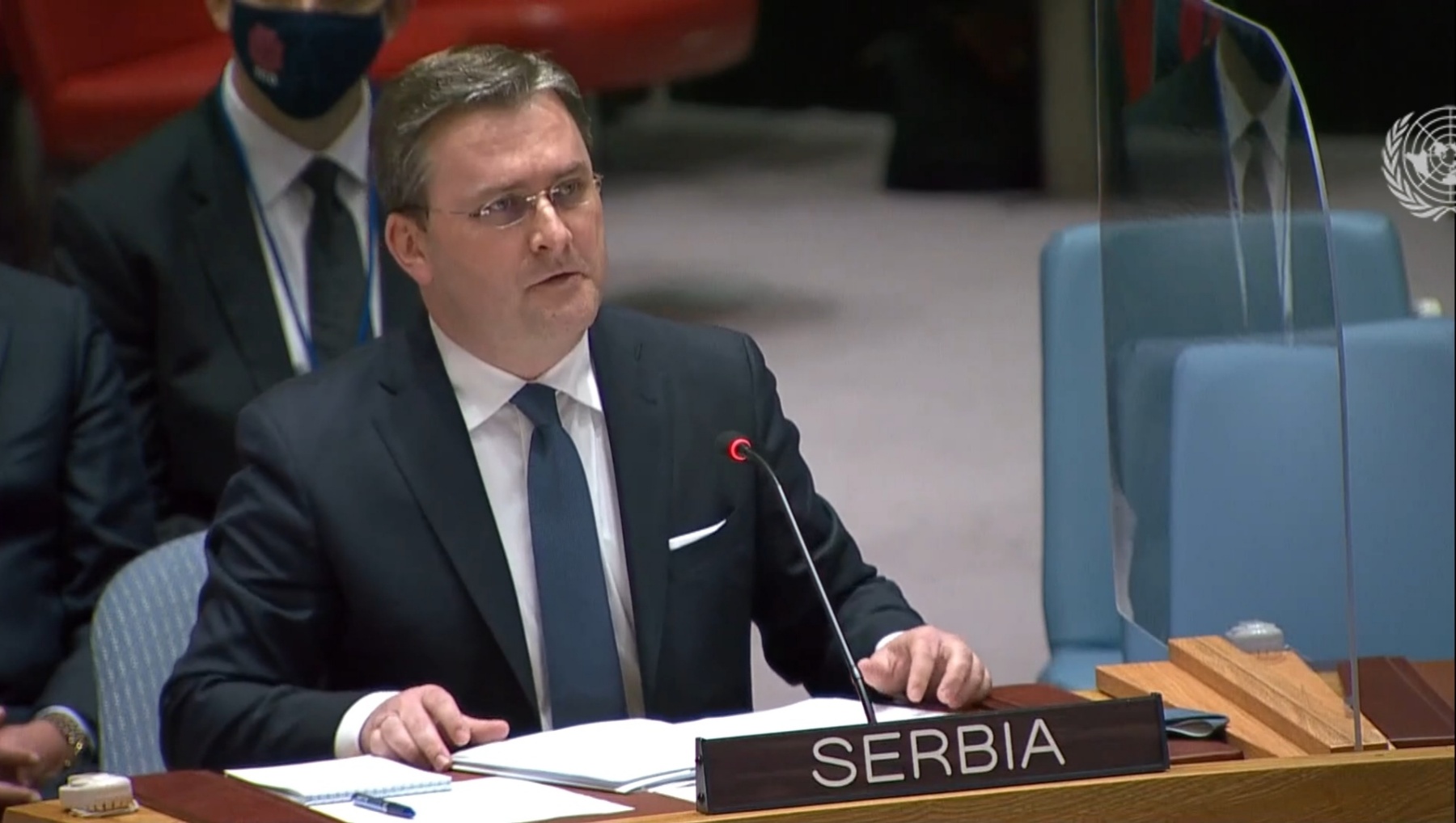 ``Distinguished President of the Security Council,
Esteemed members of the Security Council,
Distinguished Special Representative,
I would like to thank Secretary-General of the United Nations Mr. Guterres and Special Representative of the Secretary-General and Head of UNMIK Mr. Tanin for the report submitted and for their efforts made towards the implementation of the UNMIK mandate. I would also like to thank the members of the Security Council for the continued attention they have devoted to the issue of Kosovo and Metohija. The Republic of Serbia highly values the activities of the Mission of the United Nations in Kosovo and Metohija and supports it in carrying out its work as efficiently as possible, pursuant to the UN Security Council Resolution 1244, and undiminished in scope, aiming to build and preserve lasting peace, stability and security in the Province.
Mr. Tanin,
Please accept the expressions of our gratitude for your engagement and the cooperation we achieved during your term of office.
Mr. President,
Deep regret and concerns are raised by the fact that the security situation in Kosovo and Metohija in the past period has been marked by an increasing number of various ethnically motivated attacks and incidents targeting Serbs, which was also stated in the Report; that the provisional institutions of self-government (PISG) in Pristina continue to take unilateral steps and refuse to implement the agreements reached in the Brussels dialogue; and that institutional discrimination against Serbs, attacks on the sites of the Serbian Orthodox Church and the undermining of the economic sustainability of Serb communities in the Province have continued.
We are witnessing that dangerous provocations by Pristina are taking place every day, at an accelerated pace, thus seriously threatening the safety of Serbs in Kosovo and Metohija and directly violating the agreements and arrangements reached within the Brussels dialogue.
The latest violent incursion of the so-called ROSU units into the northern part of Kosovska Mitrovica, on 13 October, is the ninth incursion of its kind. Tear gas, shock bombs and unbridled violence are becoming a matter of everyday life for Serbs in the north of Kosovo and Metohija, and that must be stopped immediately.
In the last attack with firearms and chemicals used by Pristina special forces, 71-year-old Verica Djelic died as a result of chemicals used in the intervention, 10 unarmed civilians were wounded, one of them 36 years old Srećko Sofronijević was critically wounded in the back with of an automatic rifle. A three-month-old baby, who miraculously remained unharmed, was also the target of the shooting.
The false excuse for the latest unilateral action, as EU High Representative for Foreign Affairs and Security Policy Josep Borrell called it, was the fight against organized crime and smuggling. Ladies and gentlemen, Serbia is strongly against organized crime and smuggling, but the members of the UNSC should know that such an important and general global goal, which we all share, was cynically used for an armed attack on unarmed civilians, which began with an automatic rifle raid of pharmacies in which patients of Serbian and other nationalities are supplied with vitally important medicines. Four days before the local elections in Kosovo and Metohija, in order to gain votes in an irresponsible and inhumane way, fully motivated by separatist goals, the current PISG regime used medicines on which people's lives depend to prove its position on the status contrary to UNSCR 1244.
Only a few days earlier, another provocation on the part of Pristina led to a dangerous crisis, when personnel of the so-called ROSU unit, armed with long firearms and reinforced with armoured vehicles, were deployed to administrative crossings between central Serbia and Kosovo and Metohija - Brnjak and Jarinje – in order to remove Serbian license plates and replace them with temporary ones, thus violently preventing the free movement of citizens.
These events do not fall within the reporting period covered by the latest Report of the UN Secretary General on the work of UNMIK, but it is incumbent upon us to address them on this occasion, in order to have everyone understand how dramatic the situation on the ground has been and how serious the consequences of Pristina's unilateral actions can be.
The incursions of heavily armed Pristina police formations, composed exclusively of Albanians, into the north of Kosovo and Metohija, under various pretexts and motives, with the use of excessive force, are provocations that have an extremely dangerous potential to destabilize the already sensitive security situation on the ground. The goal of the latest incursions of Pristina's special force personnel into the north of the province was to provoke the Serbs and additionally intimidate them with a demonstration of force, as well as to provoke Belgrade to react hastily in some way.
It is obvious that with such moves Pristina aims to erase the 10 years of dialogue, which is the only way to resolve open issues. These provocations once again demonstrate that the provisional institutions of self-government in Pristina, not only do not intend to implement everything agreed in the Brussels dialogue, but that their goal is to completely deny dialogue as a means of resolving problems. An effective response to Pristina's lack of credibility and their dangerous play with fire, which could have unforeseeable consequences, cannot be provided by calling on "both sides" for constructiveness and restraint, which has long been a manner in public communication of some important factors in the international community. There is only one source of destabilization, it has a name – and that is the provisional institutions of self-government in Pristina - and after the events of 13 October, it is clear that it can and needs to be stopped by urgent and decisive action of the international community. It is now quite obvious that these are no longer sporadic and isolated provocations by Pristina, but that this is an organized campaign of ethnically motivated violence and discrimination against Serbs.
We also express our concern over the latest imposition of tariffs by Pristina on certain products originating from central Serbia, which was made public on 8 October. We remind you that the unilateral decision of Pristina to impose duties on products from central Serbia in November 2018 resulted in a de facto complete trade blockade and a long-term stalemate in the dialogue between Belgrade and Pristina. In contrast to Pristina, which persistently seeks to raise barriers towards central Serbia through unilateral acts, Belgrade is persistently and consistently working to liberalize the flow of people, goods, services and capital, which is the basic goal of our "Open Balkan" initiative. North Macedonia and Albania joined this initiative, but Pristina did not.
Distinguished members of the Security Council,
In the period from March to September this year, which is covered in the latest Report, close to 100 ethnically motivated attacks were carried out against Serbs, their private property, religious and cultural heritage sites. The increase in the frequency of attacks was accompanied by the strengthening of the intensity of ethnically motivated violence, which more and more often targets children, the elderly, women, the few returnees present there, as well as churches and other property of the Serbian Orthodox Church.
This systematically intensifies the ubiquitous sense of insecurity of the remaining Serbs, but also deters potential returnees, who are in fact being told that local Albanian communities can attack them with impunity and prevent them from returning to live in their own homes.
The most striking example of the position of Serbs in Kosovo and Metohija is the case of the displaced person Dragica Gašić, who moved into her apartment in the municipality of Djakovica again in early June. In that town – to which local Albanians proudly refer as a place forbidden to Serbs - Ms. Gašić, on her return, first faced physical and verbal attacks by citizens of Albanian nationality living there. Instead of being provided protection, that seriously ill woman then became a victim of institutional persecution as well, that the local self-government bodies and the police unleashed against her. Since this is a person who is the first and only Serb returnee to Đakovica after more than twenty years, it was to be expected that, at that moment, at least civil society organizations would attempt to protect her rights. However, NGOs from Djakovica soon joined the activities aimed at the expulsion Ms. Gašić, including those receiving funding from international donors for projects related to strengthening democracy and the rule of law.
I must also mention the latest attack on the house of the only remaining Serbian woman in the center of Pec, retired teacher Rumena Ljubić, whose windows were stoned twice in just 24 hours on 13 October.
Dragica's and Rumena's fate is a frightening reflection of the real situation of human rights that almost every one of over 200,000 displaced Serbs and non-Albanians would face in Kosovo and Metohija - provided that they gather the courage to return to their homes in the Province after more than twenty years. I would like to remind you again that since 1999, only around 1.9% of internally displaced Serbs and other non-Albanians have achieved a sustainable return to Kosovo and Metohija.
Therefore, I believe that the aforementioned will encourage the members of the Security Council and the international presence on the ground to devote priority attention in the future
to the issue of the return of displaced persons, which is an important part of the UNMIK mandate under UN Security Council Resolution 1244.
I therefore thank the Secretary-General in particular for keeping this extremely important issue in focus and for calling again, in the conclusions of his Report, for the creation of conditions for the sustainable return of internally displaced persons and the sustainable reintegration of returnees.
Distinguished members of the Security Council,
Serbian medieval monuments in Kosovo and Metohija, including monuments that, due to their exceptional value but also constantly being subject to threats are inscribed on the UNESCO List of World Heritage in Danger, are still among the most endangered cultural heritage in Europe.
I wish to recall that there are over 1,300 Serbian churches and monasteries in Kosovo and Metohija. Attacks on Serbian cultural and religious heritage are at the same time attacks on the identity of Serbs in the Province and directly affect their sense of safety.
A striking example of disrespect for Serbian cultural and religious monuments in the Province is the case of the Visoki Decani monastery. The monastery, which has been the target of attacks and shelling several times since 2000, is still secured by KFOR forces due to being under a threat. It is faced with a series of hostile actions, and the perpetrators are not deterred by the fact that this is a World Heritage Site. Despite frequent declaratory statements, even the decision of the so-called "constitutional court" of the PISG in Pristina five years ago confirming ownership of Visoki Decani Monastery over 24 hectares, is not respected. We welcome the assessment made by the UN Secretary General in his Report.
Dear Mr. President,
The Republic of Serbia remains committed to finding a compromise political solution, as prescribed under Resolution 1244, which will ensure lasting peace and stability. We firmly believe that dialogue and the implementation of the agreements reached are the only right way to resolve all open issues.
As a state committed to the respect for international law and a member of the United Nations, Serbia opposes any attempt at establishing an artificial balance between the parties in the dialogue, as well as the relativization of responsibility for unilateral acts.
We note with concern that not even eight years after reaching the Brussels Agreement, the establishment of the Community of Serb Municipalities has not been initiated, although Belgrade has fulfilled all its obligations under that agreement.
There are also numerous and repeated examples of Pristina violating or obstructing agreements reached in dialogue, in the areas of energy, justice, freedom of movement and visits by officials.
One such example is the verdict sentencing Ivan Todosijevic to two years in prison, which is also pointed out in the Secretary General's Report. The Brussels Agreement was directly breached, which was also stated by the representatives of the European Union. With its conduct Pristina caused immeasurable damage to the reconciliation process in Kosovo and Metohija.
Despite the interpretation from the European Commission that this is a violation of the Brussels Agreement, because Todosijevic had to be sentenced by a panel consisting of the majority of judges of Serbian ethnicity, Pristina still does not take any action in this regard.
Pristina also continued with the practice of banning Serbian officials from entering the territory of the Autonomous Province of Kosovo and Metohija.
We believe that it is important that the international community, and especially the European Union, as the guarantor of the agreement, firmly insists that the provisional institutions of self-government in Pristina start implementing all the agreements reached.
Distinguished members of the Security Council,
As before, the Republic of Serbia remains fully committed to resolving the issue of missing persons, as also demonstrated through full cooperation with relevant international mechanisms as well as participation in the work of the Working Group on Missing Persons. We expect that the representatives of the provisional institutions of self-government in Pristina will fulfill their obligations.
Bearing in mind everything I delivered here today in my address, we hold the position that the international presence in Kosovo and Metohija, pursuant to UN Security Council Resolution 1244, is still necessary. In addition to UNMIK, the presence of KFOR as the main guarantor of security and EULEX, due to its engagement in the field of the rule of law, is also important. I would like to emphasize once again that Serbia fully supports respect for international law, comprehensive implementation of UN Security Council Resolution 1244 and activities of UNMIK in an undiminished scope and with adequate financial resources, so that the Mission fulfills the mandate entrusted to it under the Resolution.
Thank you.``
---
High Level Commemorative Meeting on 60th Anniversary of the Non Alignment Movement - NAM held in Belgrade 2021
Belgrade, Republic fo Serbia, October 11th-12th, 2021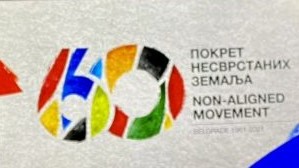 A high-level meeting dedicated to marking the 60th anniversary of the Non-Aligned Movement
The President of the Republic of Serbia, Aleksandar Vučić, participated today in the High-Level Meeting, dedicated to the 60th anniversary of the Non-Aligned Movement, and pointed out that this is a unique opportunity to discuss all issues of common interest and build new bridges of friendship. and cooperation.
"Dear friends, welcome home! Belgrade has been, is and will be a proud host to every human being who carries the soul of peace. The basic idea, around which our predecessors gathered when they founded this movement, is peace," said the president. In his address, as co-host of the Commemorative Gathering, Vučić added that peace is the basis for the development of political, cultural and economic cooperation. He thanked the heads of delegations for their presence and for pointing out an exceptional part to Serbia, as the host.
"It is a great privilege and honor for us all to gather in Belgrade today, where, I hope, in the coming days, you will feel at home," said President Vučić and stressed that he was convinced that the world of dialogue, peace and compromise is achievable and possible. He told the participants that this is an exceptional opportunity to discuss the future and that the international cooperation is the only way to the overall well-being and prosperity of all humanity.
"Despite numerous ups and downs, the history of the Non-Aligned Movement is, I am convinced, a success story," said President Vučić, pointing out that the United Nations Agenda 2030 emphasizes and promotes three great goals - peace and security, development and human rights.
"Having in mind the mentioned agenda, the UN established the International Day of Multilateralism and Diplomacy for Peace, and on April 24th, 2019, we celebrated that day for the first time. Serbia, as the legal successor of Yugoslavia, the founding country of the UN and the Non-Aligned Movement, is a proud promoter of policy of multilateralism and respect for international legal norms ", said President Vučić and added that he was convinced that Belgrade, as a centuries-old symbol of the crossroads of civilizations, a point of contact and meeting between East and West, where different civilizations, cultures and religions have always met, can encourage to dialogue and the construction of new bridges of cooperation.
President Vučić stated that the wish was to pay tribute to the first conference of the Non-Aligned in Belgrade, which was held in 1961, during the block divisions, and which gave great historical significance to the creation of a different vision of the world.
"That vision is based on mutual cooperation and respect between states and peoples, and there was no room in it for the domination of one state over another. I hope, however, that we will not only talk about the past, but also about the future we want to build together, because I am convinced that the world of dialogue, compromise and peace is still possible and achievable ", said President Vučić and reminded that a large number of leaders in 1961, at a time of global turmoil and insecurity, had the courage to articulate an alternative path in the then bipolar world, despite the fact that the Movement then consisted of states of different identities, cultures, religions, and political and economic systems.
"We should not forget the essential role that the Movement played in preserving peace and security in the world and the process of decolonization, which promoted equal social and economic development of all countries," President Vučić underlined.

"The future of equals, where the same rights apply to all, is the direction this Movement has taken from the beginning, it is the idea that most countries in the world still strive for today. What we are advocating is not just a matter of interest for each individual country, but one of the greatest civilizational steps forward, which this world must take if it is to survive as a world, and not as a kind of camp in which there is no place for all, whose keys are held only by those who are rich, and those who agree to be exploited will be liberated ", President Vučić pointed out and added that the right to decide one's own destiny is not a sin, but that it is a right that should belong to everyone, regardless of their size and wealth, strength or power at their disposal.
"I think we will agree that today's world is different in many ways from 1961. Globalization, increased interdependence and the development of new technologies have undoubtedly made the planet smaller, but they have also affected our daily lives. At the same time, it is not just a word. "The number of challenges we face, which also know no borders, but the nature of all this is far more complex. That is why today, perhaps more than ever, it is necessary to work on strengthening multilateralism and the multilateral world order," said President Vučić. and stressed that each new challenge reminds us that no country is an isolated and self-sufficient island, and that cooperation and solidarity are the only path to individual and collective prosperity.

"I think this is the basis on which the members of the Movement stood united despite their differences. The Non-Aligned Movement has been and always remains a symbol of a freedom-loving part of the world ready to fight for its independence, autonomy and sovereignty and I am deeply convinced that continue to fight for these goals, because that is something that needs to be fought for, "said President Vučić and told those gathered that Serbia knows how difficult this fight is.
"Of all our struggles, the most painful is the one aimed at preserving sovereignty and territorial integrity, that is, resolving the issue of Kosovo and Metohija. Fighting for its sovereignty and territorial integrity, Serbia simultaneously defends the universal principles of the UN Charter and international law, but also some of key principles on which the Movement of Non-Aligned Countries was founded ", concluded President Vučić and especially emphasized that Serbia, despite all challenges, remains strongly committed to finding a compromise solution that would guarantee lasting peace and stability.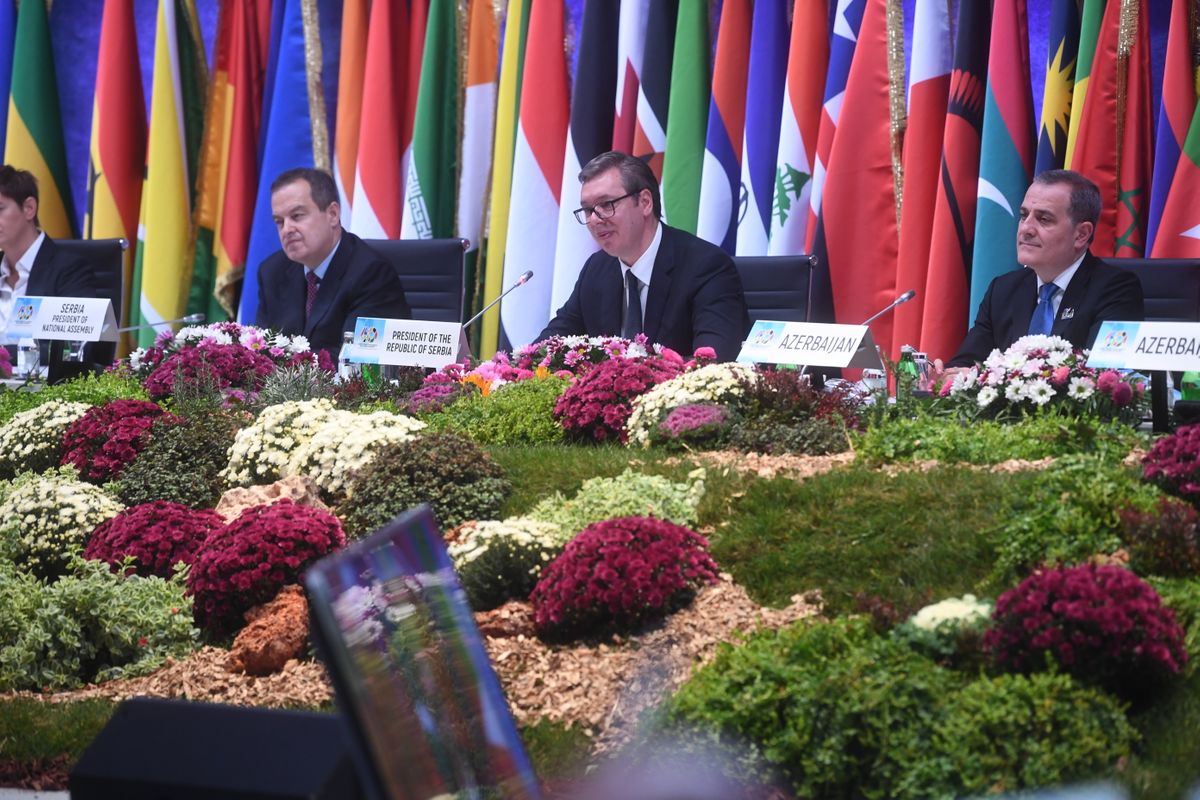 High Level Commemorative Meeting on 60th Anniversary of the Non Alignment Movement -NAM held in Belgrade 2021.(for more, please click on the title).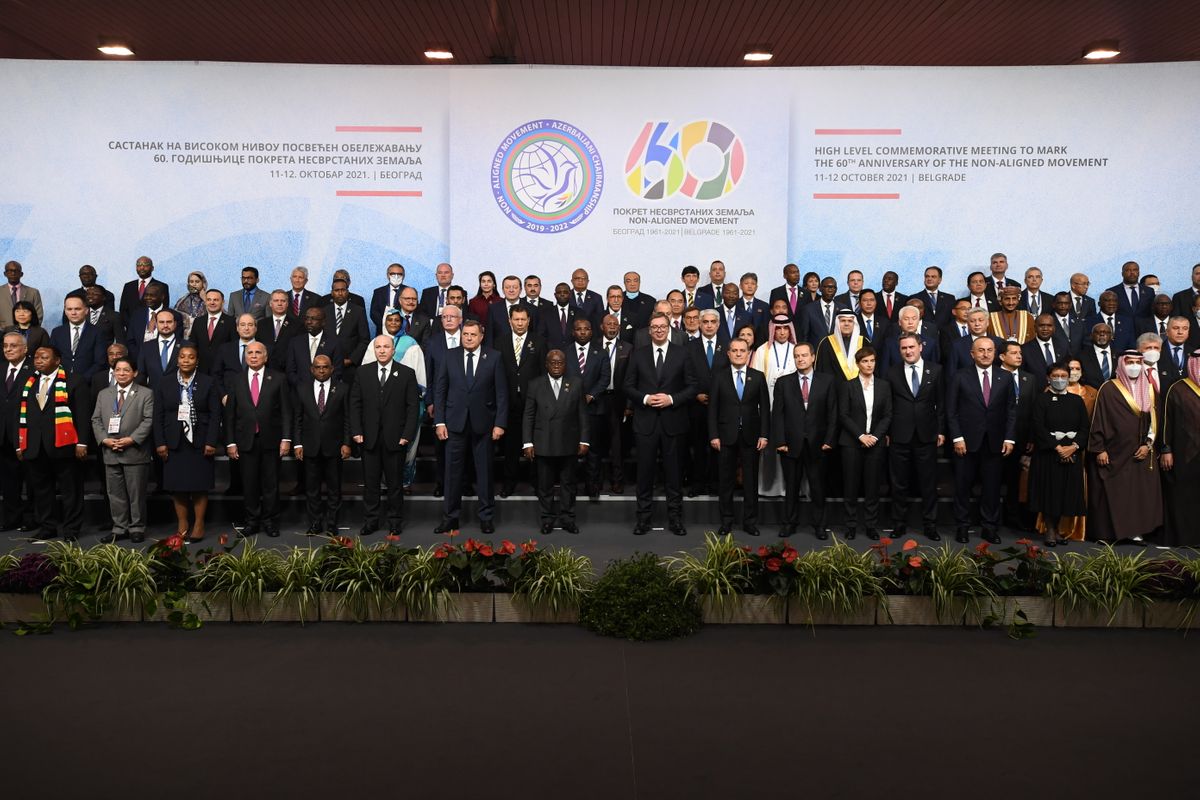 ---
Telephone conversation of President Vučić and General Secretary of NATO
26 September 2021

The President of the Republic of Serbia, Aleksandar Vučić, has discussed today by phone with the General Secretary of NATO, Jens Stoltenberg about, as the General Secretary said, worrisome situation in northern Kosovo and Metohija.
President Vučić said that Serbia had not violated either Brussels Agreement or Resolution 1244 by anything, by any single move or in any manner jeopardized peace preservation.
"The complete occupation by armored vehicles of northern Kosovo and Metohija has lasted for seven days and it is conducted by Priština and everyone in the international community "are thunderously silent", said Serbian President. "However, everyone is worried all of a sudden when they spot Serbian helicopters and airplanes at the territory of central Serbia, because apparently they should not exist, or should not take off until they receive the approval from Kurti or someone from the international community", says President Vučić.
Serbia observes all international agreements it signed, Serbia will always conduct responsibly and seriously, but Serbia is still asking when the formation of SMC will start and when Kurti's armored units will be withdrawn from northern Kosovo and Metohija.
Finally, with the gratitude to General Secretary Stoltenberg for the fair relation and wish to listen to the Serbian side, President Vučić asked about the norm and international regulation violated by Serbia? Today, yesterday or any time?
The two interlocutors agreed to stay in constant touch due to necessity of the preservation of peace and stability in the entire region.

Source/Photo: www.predsednik.rs
---
Pristina seriously jeopardized regional stability
25 September 2021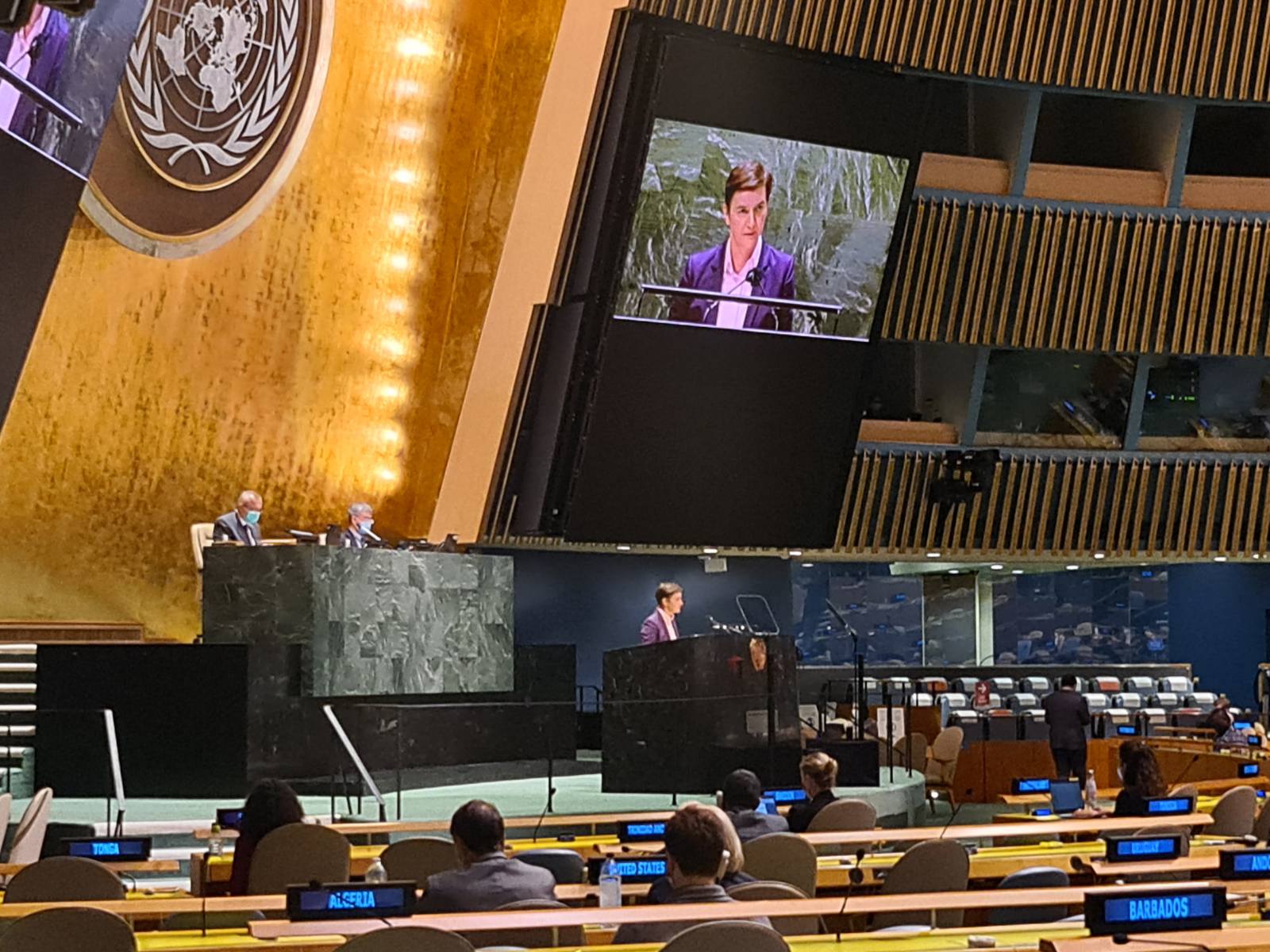 Prime Minister Ana Brnabic warned today that Pristina has seriously jeopardised local and regional stability after sending heavily armed special units to the north of Kosovo who are exerting ` against the peaceful Serbian population.
Brnabic spoke at the general debate of world leaders, as part of the 76th session of the UN General Assembly in New York.
We bring the Prime Minister's speech in its entirety:
Mr. President,
Mr. Secretary General,
Excellencies,
Ladies and gentlemen,
I have the great honor to address you today on behalf of the citizens of the Republic of Serbia.
Esteemed Excellencies Mr. Abdulla Shahid, Mr. Volkan Bozkir and Mr. António Guterres, I would like thank you for the active engagement, dedication, and leadership you have shown during these difficult times for the United Nations and all of humanity.
Serbia shares your conviction and we remain fully committed to supporting your efforts.
This year, we come together at a decisive moment in our history.
Covid-19 has shaken our foundations to the core.
At the same time, we are increasingly witnessing and experiencing effects of climate change.
And, finally, we are seeing significant shifts in global partnerships and alliances, trade wars between traditional partners and allies, protectionism instead of openness and free market, and overall uncertainty at an unprecedented scale.
Some of the pressing and extremely emotional issues that we have locally, in the Balkans, are still unresolved and while we are trying – and Serbia is especially dedicated to this – to change the future by working together and creating alliances, through initiatives such as the Berlin process or Open Balkan, others are trying to disrupt these processes, and instead of focusing on the future, they want to recreate the past – whatever the cost of that may be.
But, let me start with COVID:
COVID-19 pandemic has exposed critical weaknesses in the architecture of global governance. It has threatened to erase the progress many nations have achieved in recent years.
It has placed nations at a junction between isolation and collaboration, between panic and hope, between chaos and order.
The pandemic questioned some of the basic tenets of the open and cooperative international order.
Global exchanges, international communication, cross-border trade have all seen a vast decrease.
Curfews, restrictions on freedom and lockdowns of entire societies have created uncertainty in many segments of the individual lives of our citizens or – for that matter – our own individual perception of what freedom in today's world even means.
For Serbia, this pandemic threatened to undermine everything we have been doing for the past 7 years, to crush all of the results and accomplishments of difficult reforms we initiated in 2014, and to propel us back to the times of high unemployment, rising public debt, uncontrollable deficit, and overall desperation.
Much as in any other country, COVID-19 has tested our nations' resiliency and, this time, unlike during the global financial crisis – which was of much more limited scope and incomparable in consequences to COVID-19 pandemic – Serbia stood strong.
The reforms we undertook in the pre-COVID times made us more resilient than ever.
The fiscal consolidation, the budget surplus we had, efficient and predictable investment environment, became a lifeline that saved us from a recession during the pandemic and one that ensured we could support our citizens and our economy during these, most difficult of times.
Despite the effects of the crisis, Serbia has managed to preserve financial and economic stability. In 2020, we recorded a decline in GDP of only 0.9% – one of the best results in Europe. Our public debt remained below 60% of our GDP, average salary continued to grow by almost 10%, while despite the pandemic the number of people employed increased by over 3%.
The recovery in this year has been stronger than expected – our GDP will grow approximately 7%, and perhaps even stronger.
Prior to the pandemic, we have opened our borders to investment, technology, and ideas, and we managed to create peaceful and stable environment that allowed us to pursue rapid domestic transformation, with innovation and knowledge-based economy as the foundation.
The innovative advances we had made allowed us to diversify our capabilities when the virus hit – through e-Government, online education and digital textbooks, or central software system for a successful vaccination rollout.
We invested heavily in health infrastructure and strengthened the health system in order to respond to the current crisis, eternally grateful to the health care workers for their dedicated struggle.
Our decision to put geopolitics aside, and people at the center of our policies, is the reason we were able to acquire vaccines quicker than most other nations.
We did not discriminate between manufacturers, did not care whether vaccines are from the East or from the West, but chose to negotiate with all vaccine manufacturers deemed safe by regulators. This openness gave us the ability to purchase vaccines from around the world, giving our citizens the unique freedom to choose which vaccine they prefer.
Excellencies,
Serbia believes in solidarity between nations, multilateralism and helping others when in need.
Since the beginning of this year, we have made it our mission to support our neighbors, and all those in need, with COVID-19 vaccines and we have also allowed foreign nationals to come to Serbia to receive the vaccine which will protect their lives.
In total, Serbia has donated or allocated over a million doses of vaccines – of which 230.000 doses to the region; 300.000 doses for foreign nationals which came to Serbia to get vaccinated; and additional 570.000 doses to countries of Africa and Asia.
We will keep doing so, to the greatest extent possible, and until COVID-19 is behind all of us.
That is why we have also taken steps to acquire the technology to produce at least two types of COVID-19 vaccines to help improve global access so we can all be safe and victorious.
However, as stated by dignitaries of some of the largest nations during this General Assembly, there are other pressing issues that all of us need to keep addressing without any delay and in a bold manner – and that is climate change.
Serbia has redoubled its efforts to make our country safer and cleaner for its citizens, and by doing so, contribute to the fight against climate change and for environmental protection.
We are strongly committed to the implementation of the sustainable development goals and the Paris Agreement on Climate Change. We are committed to global efforts and will continue to work actively to meet our obligations under the UN Framework Convention on Climate Change.
We are about to submit our revised Nationally Determined Contributions to contribute to this critical global effort. We have already announced our intention to reduce greenhouse gasses for at least 33.3% compared to 1990, and 13.2% compared to 2010, which we are currently incorporating into our energy and climate strategic documents.
We work strategically on planning and investments in this sector. These investments are extremely expensive, requiring years and decades of commitment and a systemic approach - but we are clearly set on the path of this transformation.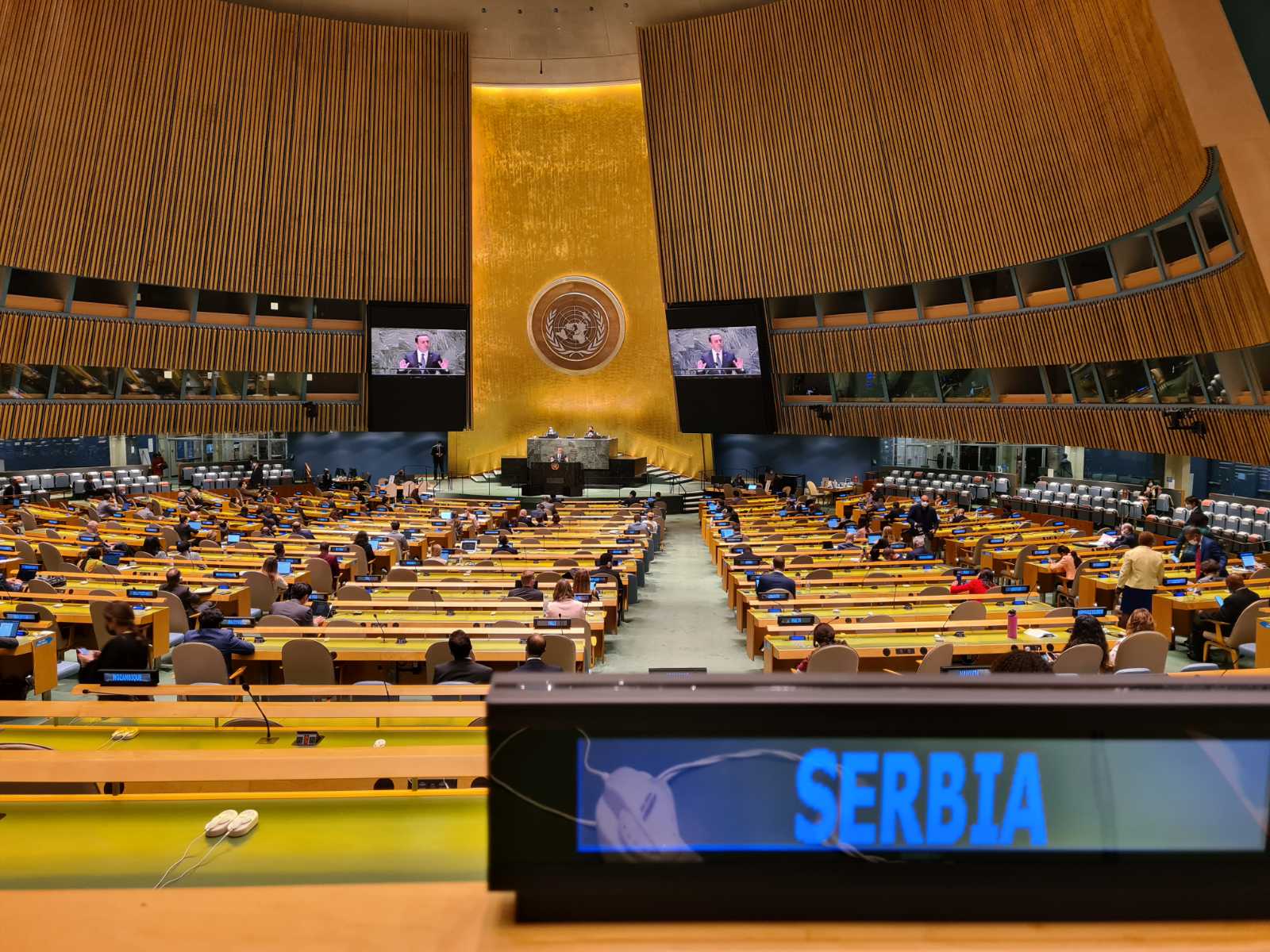 Ladies and gentlemen,
Of all the challenges we face, the most worrisome for Serbia is the maintenance of peace and stability in the southern Serbian province of Kosovo and Metohija.
For more than two decades, we have been constantly drawing international attention to the problems that non-Albanian population is facing in Kosovo and Metohija. Physical safety, respect for and protection of human rights, especially of minority communities, are far from satisfactory.
We are now witnessing a constant increase in the number of attacks targeting Serbs, their property and religious heritage in Kosovo and Metohija.
To illustrate, there were 55 such incidents in 2014, 62 in 2016, 71 in 2020, and 100 since the beginning of this year. The total number of attacks in 2020 has already been surpassed by June of this year.
According to the UN, Kosovo and Metohija is still the territory with the least number of returnees (internally displaced Serbs) of all post-conflict areas in the entire world!
I will give you just a few examples to depict how life of Serbs in Kosovo and Metohija looks like.
On the 11th of May the house of Radoje Pumpalović, 81-years old returnee to Kosovo in the village of Dubrava, in Istok municipality, was attacked. This was the 5th attack on him in the same year. Again… he is 81 years old.
Since June 2021, multiple attacks were carried out against Dragica Gašić, 59-years old woman, the first Serb returnee in Đakovica after 22 years since the end of the conflict. Attacks include stoning of her apartment, banning her from shopping for food in the local store and petitions by civil society organization demanding her eviction from the city.
On 2nd of July, in the village of Gobulji near Vučitrn, a group of Albanians attacked 13-year old Nikola Perić. The attack occurred when he was returning home from the school playground with three friends.
Attacks on Serbian medieval churches, monasteries and monuments in Kosovo and Metohija, make them some of the most endangered cultural heritage sites in Europe.
Monastery Visoki Dečani was recently listed, by Europa Nostra, as one of the 7 Most Endangered Heritage Sites in Europe in 2021. The Advisory Panel of Europa Nostra noted that Dečani is the only monument in Europe under robust military protection for a continuous period of 20 years, although it constitutes a monument of ultimate historical and cultural importance for Europe and the world.
This spiral of violence occurring in Kosovo and Metohija culminated at the beginning of this week. On the pretext of enforcing new license plate rules, Priština dispatched heavily armed special units to the north of the province. This is yet another brutal violation of the Brussels Agreement, and this irrational show of force has ignited a major crisis. It disrupted the supply of food and medication to Serb communities in the north of the province. Local Serbs who peacefully gathered to protest this measure were met with tear gas and police brutality, thus seriously threatening local and regional stability.
Despite of all the challenges and daily provocations, Serbia remains strongly committed to finding a compromise-based solution that will ensure lasting peace and stability.
Dialogue and the implementation of the agreements reached – are the only proper way to resolve all open issues.
However, almost 9 years after reaching the Brussels Agreement, as the 1st agreement on normalization between Belgrade and Priština, the establishment of the Community of Serb Municipalities – the backbone of this agreement – has not yet even begun.
I would like to appeal, once again, to the international community, and especially the European Union, as the guarantor of the Brussels Agreement, to firmly insist that the Provisional Institutions of Self-Government in Priština start implementing all of the agreements reached.
The Republic of Serbia, by defending its sovereignty and territorial integrity, at the same time defends international law, the UN Charter, legally binding UN Security Council Resolution 1244, and the supreme authority of the Security Council when it comes to the preservation of international peace and security.
We attach special importance to the activity of the UN mission in Kosovo and Metohija and expect it to continue to implement its mandate in the Province in accordance with this resolution.
Dear friends,
Our generation shares the common destiny of the modern world, which is becoming increasingly complex in terms of geopolitics, technology, health, climate. In the face of these challenges, Serbia will continue nurturing international partnerships, on a predictable and transparent basis.
We will continue pursuing the rule of law reforms on our EU path, which is our strategic foreign policy goal. We see this as inseparable from achieving sustainable peace, stability and prosperity.
We will host, together with the Republic of Azerbaijan as the current chair of the Non-Aligned Movement, a commemorative high-level event marking the 60th anniversary of the First Non-Aligned Movement Conference, which was held in Belgrade in 1961. We are very much looking forward to hosting our friends from all parts of the world in Belgrade in October this year.
We will further enhance cooperation across the Balkans, through the Open Balkan initiative and Berlin process, by opening borders, harmonizing differences, and further integrating our region.
In conclusion,
Over the past 7 years, Serbia has been transformed: we sparked an economic revival, created opportunities for young people, cultivated a tech boom, and improved Serbia's position abroad. The progress we have made has allowed Serbia to better face and survive the pandemic.
The world now faces a turning point. The recovery from COVID-19 and sustainable reconstruction will not proceed if issues, new and old, are not handled by joint forces and collaborative international actions.
This pandemic taught us one important lesson: unless all of us are safe, no one is safe – so we can either win together, all of us – regardless of how rich or poor, large or small, from Europe, Asia, Africa, America or Australia, or fail together.
But, if anything, the COVID-19 pandemic, as well as the issue of climate change, should have taught us to stand together.
Thank you.

Source: www.srbija.gov.rs
---
Prime Minister Brnabic at Global COVID-19 summit organised by White House
September 22nd, 2021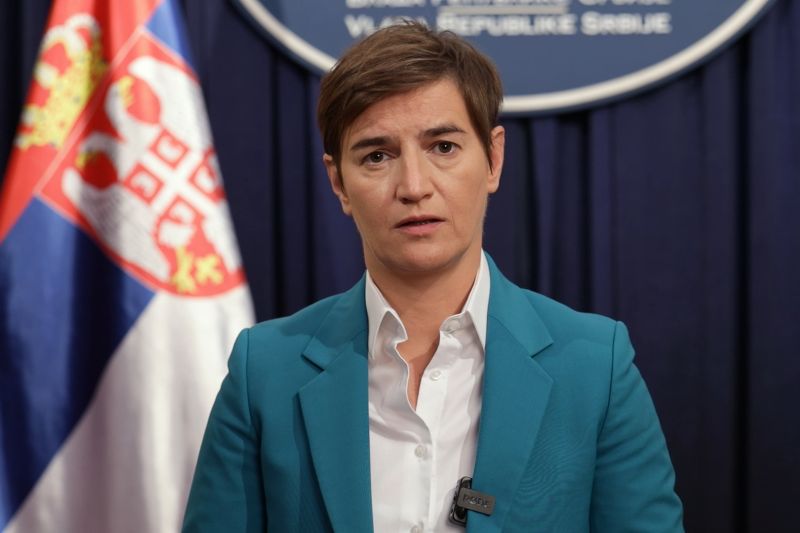 Prime Minister Ana Brnabic participated today at the Global COVID-19 summit, organised by the White House, which was opened by US President Joseph Biden.
The video messages are attended by a large number of world leaders and officials of international organizations, including UN Secretary General Antonio Guterres, European Commission President Ursula von der Leyen, British and Canadian Prime Ministers, Boris Johnson and Justin Trudeau, German Chancellor Angela Merkel and many others.
In the message, the Prime Minister pointed out that Serbia was among the first European countries to procure a covid vaccine, and that she was the first European Prime Minister to receive the vaccine.
Thanks to years of investment in digitalisation and development of eGovernment, we have managed to organise a complicated and complex vaccination process very efficiently and in a way that it is focused on citizens, she explained.
However, as she added, from the very beginning we were aware that this is not just a matter of our citizens and only our struggle. In the fight against the COVID-19 pandemic, we are all safe or no one is safe.
That is why, in addition to procuring vaccines for our citizens, we donated vaccines to the citizens of the Western Balkans, but also to other countries, she reminded and specified that Serbia donated 230,000 doses of vaccines to the region, we vaccinated foreign citizens in Serbia with approximately 300,000 doses and set aside we have 570,000 doses of vaccines for countries in Africa and Asia.
Brnabic mentioned that Serbia has already started the production of covid vaccine from one manufacturer, and that it will start production from another by the end of the year, because in that way we want to help and support all people and countries that need vaccines.
This is a pandemic in which we will either win together or lose together, but we must fight together, the Prime Minister repeated.
That is why Serbia supports the goals of this global summit, she emphasised, and expressed her gratitude to the United States of America and President Biden for organising the summit and supporting joint efforts in the fight against the COVID-19 pandemic.
Vaccines are the only way out in the fight against the pandemic, concluded Brnabic.
---
September 15th - Celebrating the Day of Serbian unity, freedom and national flag
15.09.2021.
President of Republic of Serbia Aleksandar Vucic attended today a central event dedicated to celebrating the Day of Serbian unity, freedom and national flag on Sava square.
′′ Your Holiness, respected member of the Presidency of Bosnia and Herzegovina Mr. Dodik, esteemed president of the Republic of Srpska Mrs. Cvijanovic, respected president of the National Assembly of the Republic of Serbia, respected president of the Government of the Republic of Serbia Mrs. Brnabic, your excellency, honorable fathers, dear friends,
King Petar the First Karadjordjevic, presented June and November 1911. the 51th regiment flag to his army.
None of those flags are captured, which is a precedent in modern warfare history.

Heroes who were entrusted with the task of taking care of those flags, passed all the battles of Balkan and World War I, so that on this very day in 1918., storming under those banners, would go victoriously into the breakthrough of Thessaloniki front. Glory to our great Serbian heroes!
To our ancestors, heroes of Kolubara, Cer, Kumanovo, carriers of Kara đor đee's star and Albanian monument, Serbian tricolor, red-blue-white, was bigger and more important and more important and stronger than life, because it warned them that Serbia's freedom has no price, no alternative That's why barjaktari died, but the flags survived.
Because of them, because of all the others who under that flag, under that name, gave their lives, today we celebrate the Day of Serbian unity, freedom and national flag, perhaps the most important holiday of ours, which clearly tells us who we are, where we come from, and where we are going.
It is a holiday of our identity, the one in which language, culture, tradition, faith, but also values on which society rests, values that make one country civilized, organized, capable of remembering, but also to know what is wrong with it and why To do.
The date we chose, September 15. th, is the date of breakthrough of Thessaloniki front, that day in which, together, lie both our pain and our glory, which make up the first part of that Renan definition of the nation, by which it is based on mutual suffering, glory in the past, but also in common plan for the future.
On that September 15. th, 1918., the only plan was freedom, towards which Serbian troops rushed with the famous order of Zivojin Misic: In death, just don't stop! Forward, to the homeland!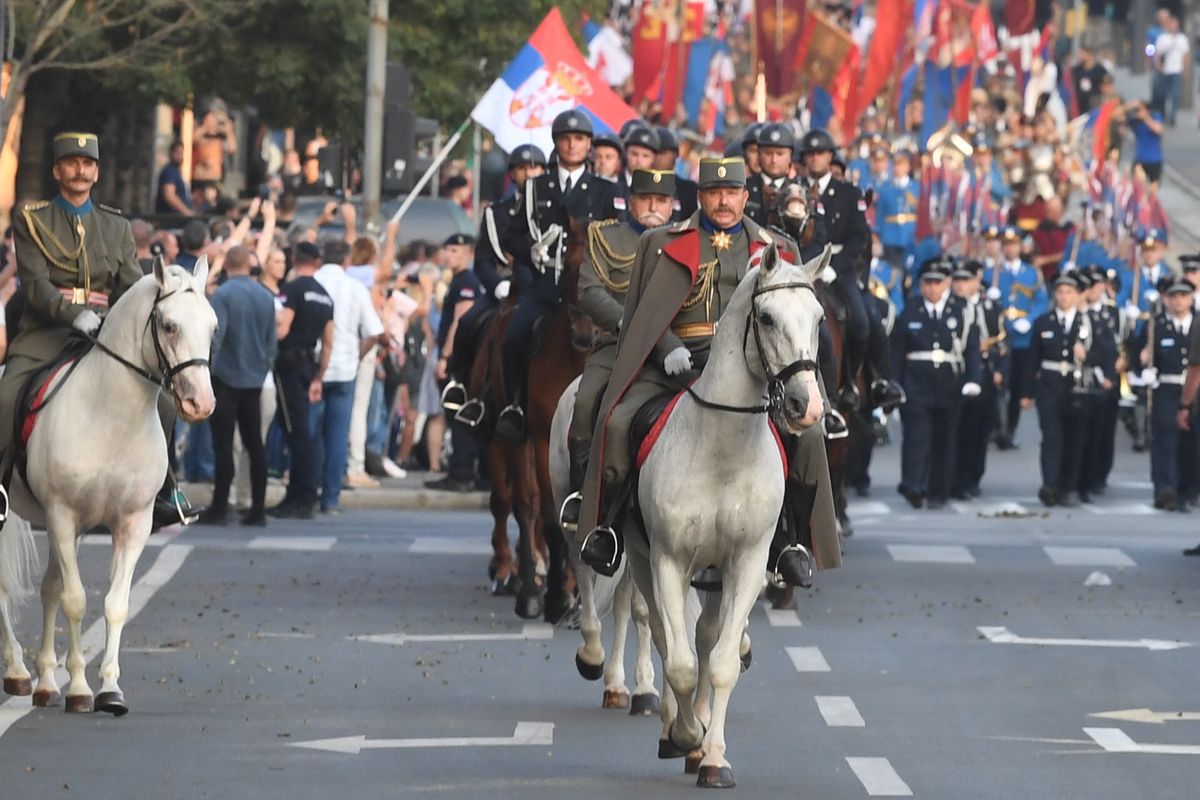 That day was the first in a series of similar plebiscites, on which, regardless of the bloody price, we chose, nanovo and nanovo, Serbia and its freedom.
Today, precisely, it is important, that celebrating all the victims, every drop of blood they shed, every bone they sowed, on another plebiscite we adopt our new plan for the future. The one, in which we will stand under the same flag, knowing that it is the flag of freedom, and the flag of peace, but also the flag of the future.
The flag of our unity in the intention of preserving our identity and right to be who we are, one and the same people, who do not want to take anything from anyone, to endanger anyone, but only to perform for themselves the same right they admit to others. The right to name, to history, culture, language, faith, tradition and the right to exist.
It is the right to dignity, the right to remember, but also the right to what no one can force us to do, and many still try, unsuccessfully - the right to decide for ourselves and when and what to forget.
To myself, and others.
Not everything has always been quite bright during history, and most often towards ourselves, sometimes towards others, but, at least in these areas, there is no nation that has been through such darkness, and that grave, nation that has made such sacrifice to see light and became a nation, free.
What of all that we will forget, and many things we have to, just to not live forever in the past, can be exclusively our choice, not the decision of anyone on the side.
And immediately to be clear, this flag, all those who lie under it and because of it, the flag of our suffering, the flag of our bones, our pits, camps, the children they took from us, we will definitely never forget and we will proudly carry it.
In her, and that's another important lesson we have to learn, are all our meaningless divisions, all the failed dreams we dreamed, every mistake we made, but what matters in that is that, and such, that Our flag, represents that unity that is based on the fact that we are not perfect, that we are different, but also to know that the beauty of togetherness, is the beauty of the flag, exactly in that.
Exactly why, our red-blue-white tricolor is no call for single-mindedness, but the exact opposite, to preserve all our differences under one, same flag.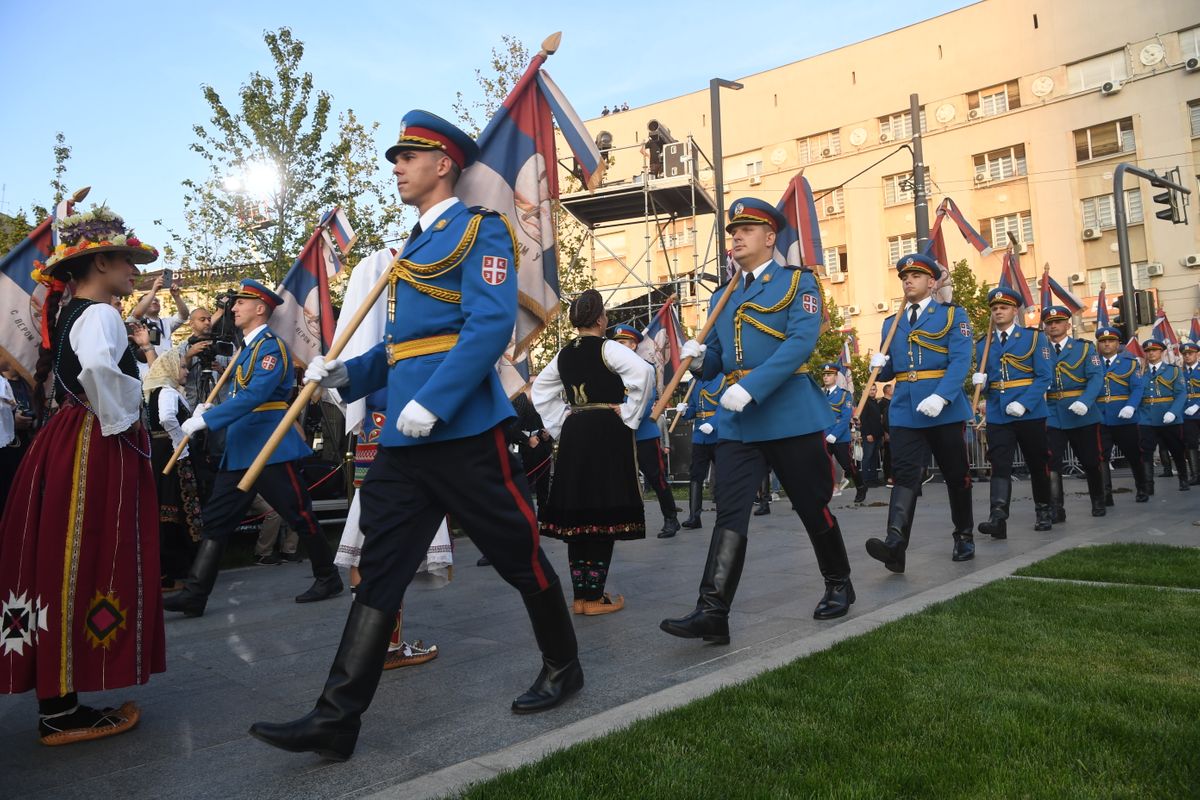 Under the symbol of freedom, identity, existence, rights to life, because these are the conditions for diversity.
Slaves are all the same, enslaved. Free people differ, because they are free.
And that's something that has to apply to all the people in the Balkans, regardless of where they live. To be free, to the same extent, with the same rights, with their language, faith, culture and tradition.
And it is not any special Serbian world, for which they accuse us, it is, simply, the world of the free, the world of those with their own name, with the right to speak loud and without consequences, always, and in every place.
We will never apologize to anyone again for the Serbian tricolor. We will carry it with pride always, and everywhere. There is nothing more important and more important to us than the unity of our people.
And that, according to us, has to apply to all the people in the Balkans, without any exceptions, and especially without constant attempts to allow someone, Serbs, first of all, a name, but also to add a stamp of guilt
This holiday of unity and freedom of ours, this flag of ours, play that role, they are proof that, being a Serb, does not mean being guilty, does not mean carrying the burden of condemnation, but, exactly the opposite, they say that pride goes with that name
Pride for Misar, Deligrad, Cele tower, and Takovo, Kumanovo, Milos, Djordje, Mihajlo, pride for Kolubara, Cer, Kajmakcalan, pride for Peter and Alexander, all the lives given for one beautiful, most beautiful attempt by all anti-fascists to preserve freedom in both that hardest time, but also because of the martyrs from Prebilovci, Jadovna, Jasenovac, whom we must never forget again, as we have forgotten for 70 years.
And that's us. That's Serbia. It's a new Serbia, a different Serbia, proud Serbia, which doesn't ask anyone for anything and who won't beg anyone, who just wants to have rights, just like everyone else has, and nothing more, but also nothing less.
That is the language, our Serbian language, language and Mesa Selimovic, and Ivo Andric, and Milos Crnjanski. It's the culture we created, it's faith without hatred, it's our being, it determines us and makes us a worthy nation.
That, in the end, gives us strength, science, that in this century, whose foundations are in our hands today, we seek peace and to discover our strength, greatness, in life, in what makes it better, in work, in great endeavors Making roads and bridges, in connections, in factories, new hospitals, in knowledge and faith that we can, can, equally, or more than all others.
And just like we are proud of our ancestors who gave their lives for freedom, so tomorrow our descendants should be proud of us, who teach them how to live for freedom and how to live in freedom.
And we need to teach them how to remember, and how to forget only by our own will. How you deserve dignity and how you respect the foundation.
And the foundation is that name, Serbia, under which so many unknowns are buried. And that flag of ours, in which they have woven their lives, to remain recognized. And glory, Homeland, which sees its children, hears, and helps, wherever they are.
The foundation is also this holiday, the holiday of our identity, our history, but also our differences that, again, give both glory and pain in the past, and a clear plan for the future.
And I want to say a big thank you to our people in Republika Srpska, I want to say a big thank you to his representatives, who are here, I want to say a big thank you to our people in Montenegro and its representatives, those who are not ashamed to say that they are Serbs , I want to say a big thank you to our martyr nation in Kosovo and Metohija, their representatives, who are here tonight, with us, but also to say a big thank you to all those who were not allowed to highlight their, Serbian flag today because of the threats of their regime in the region , to say thank you, because I know that their hearts are here tonight, with us and that they are beating for ours, for their Serbian people.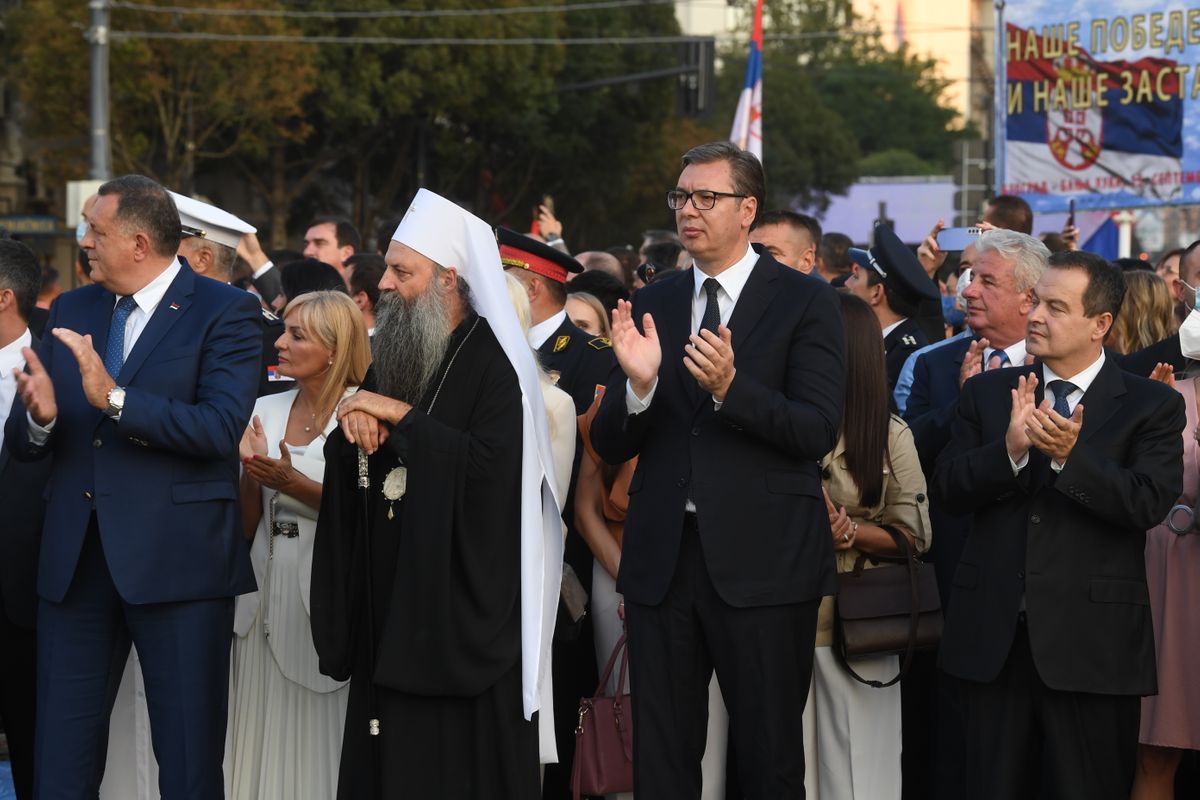 And allow me, in the end, to say that what I will do, however much I can, with all my strength, with all my heart, with all my soul, as much time as is left, I will lead Serbia to be even stronger, stronger, so that it can help the Republic To Srpska, never touching the rights of Bosnia and Herzegovina, to help our people in Montenegro, and in every place, and to protect every Serbian man from persecution, never to repeat to us again neither Jasenovac, nor Jadovno, nor Prebilovci, Neither Storm, nor Flash, nor pogroms from 2004. And that's our vow!
Let the Serbian unity live, our freedom and our red-blue-white tricolor! Let the Republic of Srpska live!
Long live Serbia!"
---
Campaign for the protection of property rights of Serbs in the Federation of Bosnia and Herzegovina
Septemeber 9th, 2021.
In the Federation of BiH, the harmonization of data on real estate catastre and land registers is underway, the so-called data harmonization. During this process, members of the Serbian corpus may lose the right to property, which is in their ownership or possession.
An obstacle to the registration of property and other property rights in the Federation of BiH is the fact that invitations to property rights holders are not sent in person, and in many cases the state, entity, canton, municipality or person who uses Serbian property without authorization is registered as the owner.
Having in mind the above, the Ministry of Foreign Affairs of the Republic of Serbia has joined the activities in informing members of the Serb people originating from the Federation of BiH who are in the diaspora, to contact the Office for Professional Legal Assistance of the Republika Srpska on the following contacts:
Phone: +387 554 90 940
Viber WhatsApp: +38765 090 040
E-mail: pravnapomoc.banjaluka@rgurs.org
Facebook and Instagram> @kancelarijazapravnupomoc
Contacts of the Committee for the Protection of the Rights of Serbs in the Federation of BiH:
E-mail: odborzazastitupravasrbaufbih@gmail.com
Facebook: @srbiufederacijibih
Twitter; @OdborF
---