July 13th, 2021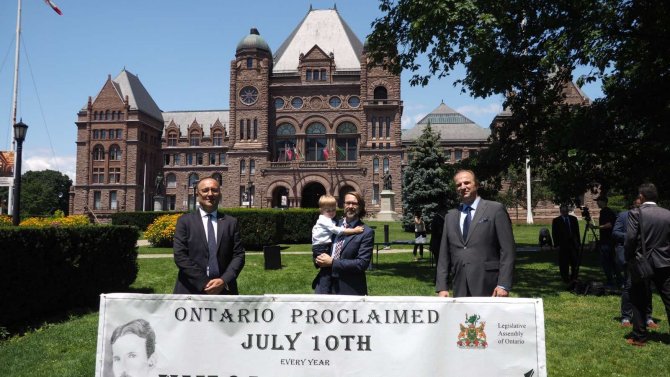 The first celebration of Nikola Tesla Day at the level of the province of Ontario was held in Queens Park, on July 10th, 2021 in front of the Ontario Parliament, on the birthday of the greatest Serbian scientist.
The event was attended by Serbian Ambassador to Canada Dejan Ralevic and Consul General Vasilija Petkovic.
On that occasion, the member of the Ontario Parliament, Tom Rakočević, handed over to the Consul General Petković a certified copy of the original of the Law on the proclamation of July 10 as Nikola Tesla Day in Ontario.
Ambassador Ralević said that in this way the Serbian community gained a significant place on the map of social and political events in Canada, while Consul General Petković emphasized that the Law states that Nikola Tesla's origin is Serbian-American, which is of great importance for Serbia. and for Serbian citizens in the homeland and the diaspora.
Ambassador Ralević and Consul General Petković were awarded letters of thanks for their contribution to the process, which resulted in the adoption of the Law on July 10 as Nikola Tesla Day in Ontario.
In addition to Consul General Petkovic and Ontario MP Tom Rakocevic, the event was organized by Nikola Tesla Education Corporation President Veroslav Vik Djurdjevic, Serbian National Defense of Canada Vice President Draga Dragasevic, University Professor Majda Djordjevic, Canadian-Serbian Alliance Vice President Tatjana Pavlović, director of the Serbian school "Nikola Tesla" Borislav Živković, physics professor Colin Campbell and David Ross from the office of MP Rakočević.
---